Mass. Eye and Ear Launches Collaboration with Bay State Council of the Blind to Improve Access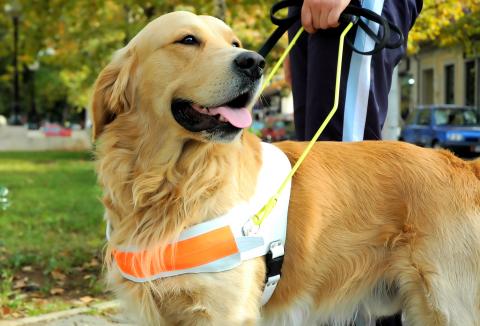 September 30, 2017
GBLS is pleased to announce a settlement between the Massachusetts Eye and Ear Infirmary (MEEI) and the Bay State Council of the Blind (BSCB). Although MEEI provides high quality care to patients with visual impairments, there were significant barriers to getting care. Patients who are blind or have limited vision had difficulty navigating the hospital because there was limited orientation or assistance. Staff members were not trained to work with service animals. Documents containing vital information such as discharge instructions were only available in standard type, rendering them useless. Patients had their privacy violated because the forms they had to fill out were not in accessible formats so they were questioned in public areas about confidential medical information. The website, which is critical for patient information, was not in an accessible format.
BSCB and MEEI issued a joint press release announcing the settlement. The five-year initiative includes:
Providing improved patient and visitor forms, documents, publications and materials in alternative formats
Developing and implementing annual training for staff on disability awareness
Developing and implementing policies on communications, auxiliary aids and services, service animals, patient data, and use of personal adaptive equipment
Adopting a website accessibility policy
Enhancing signage
We co-counseled this case with Lainey Feingold, a leading disability rights lawyer from California who is one of the founders of the Structured Negotiations (SN) movement. (She is the author of the recently published Structured Negotiations – A Winning Alternative to Lawsuits).
Congratulations to Alexa Rosenbloom for her lead role in bringing these negotiations to a successful conclusion.