Homeless Mother and Child Gets Help Obtaining Shelter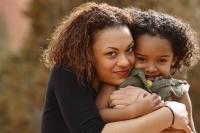 Despite the challenges of living in a homeless shelter with her young daughter Akayla, "Amina" was a star student in the Year Up program which helps high school graduates bridge the gap to college or employment.  Amina successfully completed the classroom phase of the program and secured an internship as a Portfolio Accountant with a major financial services company in Boston.  Amina was receiving Transitional Assistance benefits for herself and her daughter, and a scholarship from Year Up for expenses related to participating in their training program.
In the midst of Amina's internship, the state abruptly informed her that she was being transferred from shelter in Boston to a motel in Natick.  She immediately contacted Year Up and Linda, a key official there, told her not to go to Natick, as the challenging logistics of child care and transportation would result in her losing the internship and an excellent shot at a paid job at the end.  Linda encouraged Amina to beg her mother to let her and Akayla stay with her temporarily in Boston, so Amina could get to her internship.  Meanwhile, Linda contacted the Department of Housing and Community Development (DHCD), the agency that oversees the homeless shelter program, thinking she'd convince them to place Amina in another Boston shelter soon.  Instead, DHCD terminated Amina and barred her from shelter benefits for 12 months for not going to the Natick motel.  Year Up then referred Amina to GBLS for help in this crisis situation.
Amina's attorney Melanie Malherbe attempted to persuade agency officials to reverse the decision, but meanwhile also filed an appeal on Amina's behalf.  The agency refused to reconsider, so Melanie represented Amina at the appeal hearing, that included presenting testimony by the Year Up official and Amina.  The Hearing Office ruled completely in Amina's favor, rescinding the termination and quickly paving the way for a new shelter placement.
Amina and Akayla moved to a family shelter close to public transportation, for a straightforward commute to Amina's internship.  Akayla was spared from being uprooted from her preschool, giving her some stability in the face of switching shelters.
Without the support of GBLS' donors and funders, many more vulnerable women like Amina who work hard to get themselves and their children out of poverty would be living in untenable conditions, on some-one's floor or on the streets.