GBLS Attorneys Prevent Eviction and Regain Benefits of Mother with Severe Learning Disabilities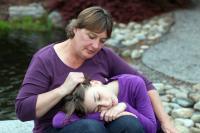 "Charlene", a single mother of a 14-year-old daughter, came to GBLS when she was desperate. She was facing eviction for not paying her rent as a result of her Transitional Aid to Families with Dependent Children (TAFDC) benefits being terminated through no fault of her own.
Charlene had been having trouble with the TAFDC work requirement and told the Department of Transitional Assistance (DTA) about her learning disability. DTA evaluated Charlene and found that she had two learning disabilities; IQ testing also revealed an intellectual disability. However, because of a series of DTA errors, Charlene was not told about the disability exemption from the work requirement for which she qualified. Since she remained unable to meet the work requirement, DTA terminated her TAFDC benefits. Charlene then was unable to pay her rent and the landlord started eviction proceedings.
After hearing her story, GBLS Lead Attorney Mac McCreight immediately went to work on her housing case and was able to stop the eviction. At the same time, Welfare Law Unit attorneys Rebecca Harlow and Lizbeth Ginsburg took on the TAFDC issue and succeeded in getting Charlene's benefits restored with the disability exemption and also obtained several hundred dollars in retroactive payments for her.
As a result of the legal advocacy of her GBLS attorneys, Charlene and her daughter were able to remain in their home and avoid possible destitution.  Charlene now is seeking an appropriate job that will provide her with the accommodations to which she is entitled by law, which will help her succeed in supporting herself and her daughter.